The 26th annual Committee for Integrity Enhancement Essay Awards Program was held April 9, 2018 at the Northside Middle School Auditorium. Students from all schools in Muncie and Delaware County, including private and home schools, were invited to write on the topic, "How do I demonstrate integrity in the way I relate to those who are different from me?"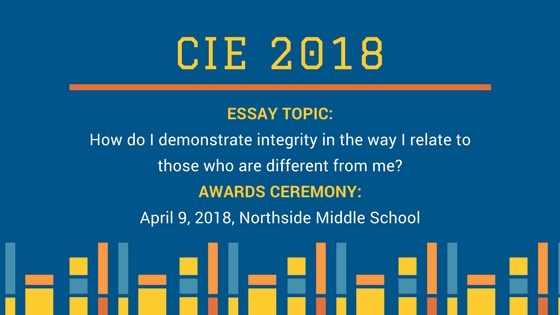 This year 945 essays were submitted from 25 schools with 53 teachers participating. Preliminary readers select two winners from each school. From these school winners, the committee selected the top three county winners in each division: elementary (grades 4-5), middle school (grades 6-8), and high school (grades 9-12). School winners each receive $20 for their efforts. Third-place county winners in each division receive $100, second place $150, and first place $250. Read the First Place winning essays here.
Elementary Division winners: First place, Natalie Hatton, 4th grade, Daleville Elementary (Teacher: Stacey King); second, Allie Trimble, 5th grade, Cowan Elementary (Teacher: Mrs. Goggin); third, Charity Perry, 4th grade, Yorktown Elementary (Teacher: Mrs. Reffett).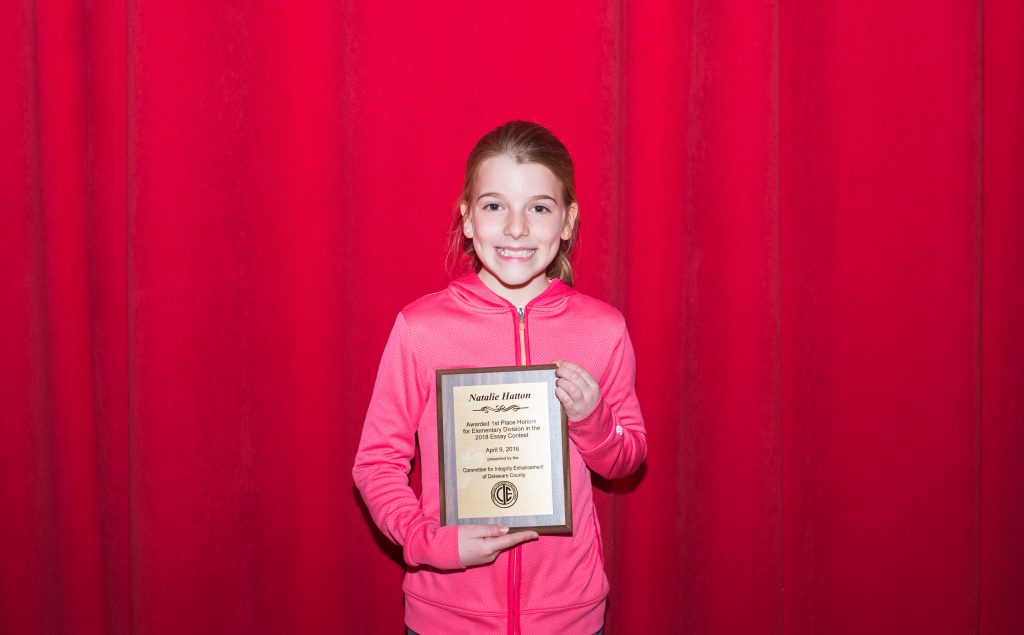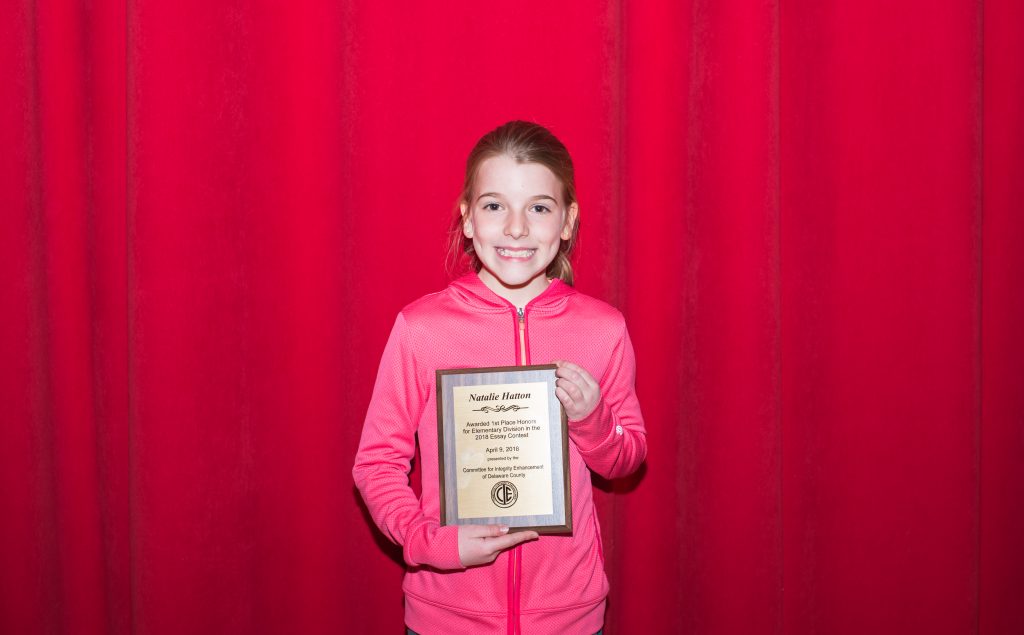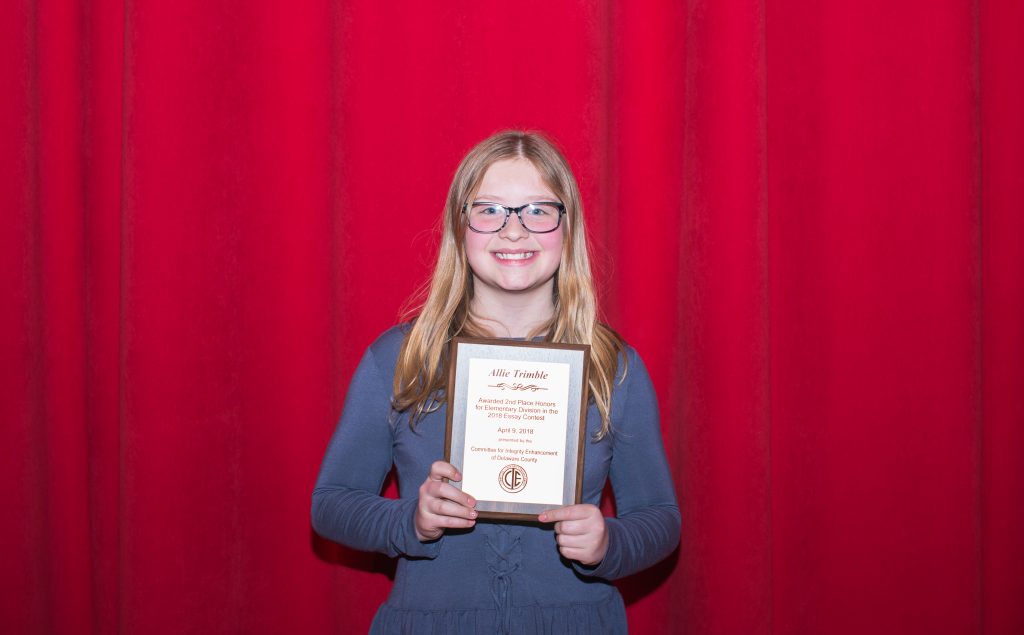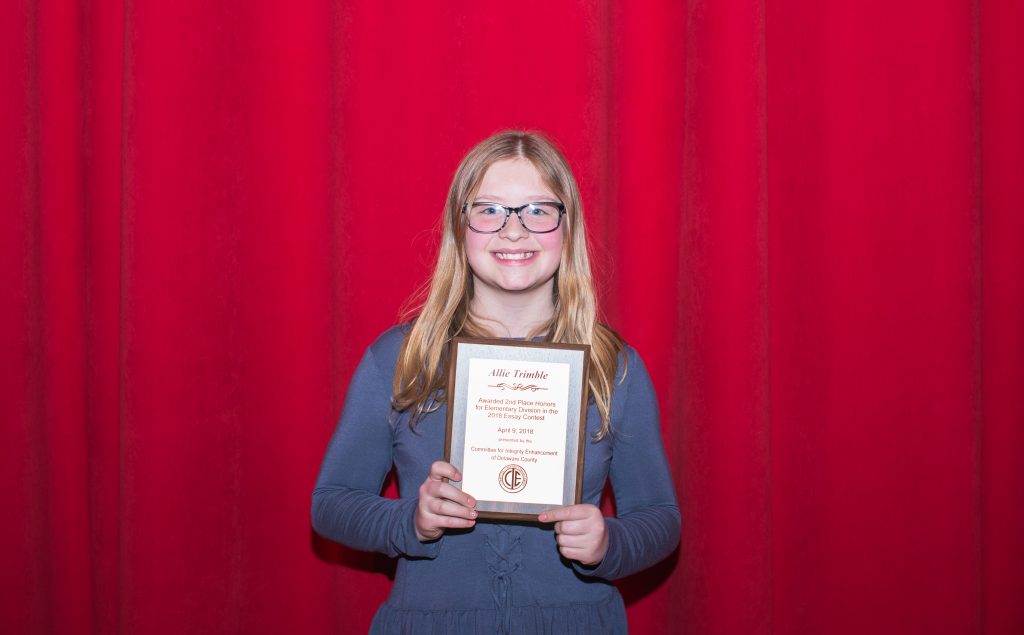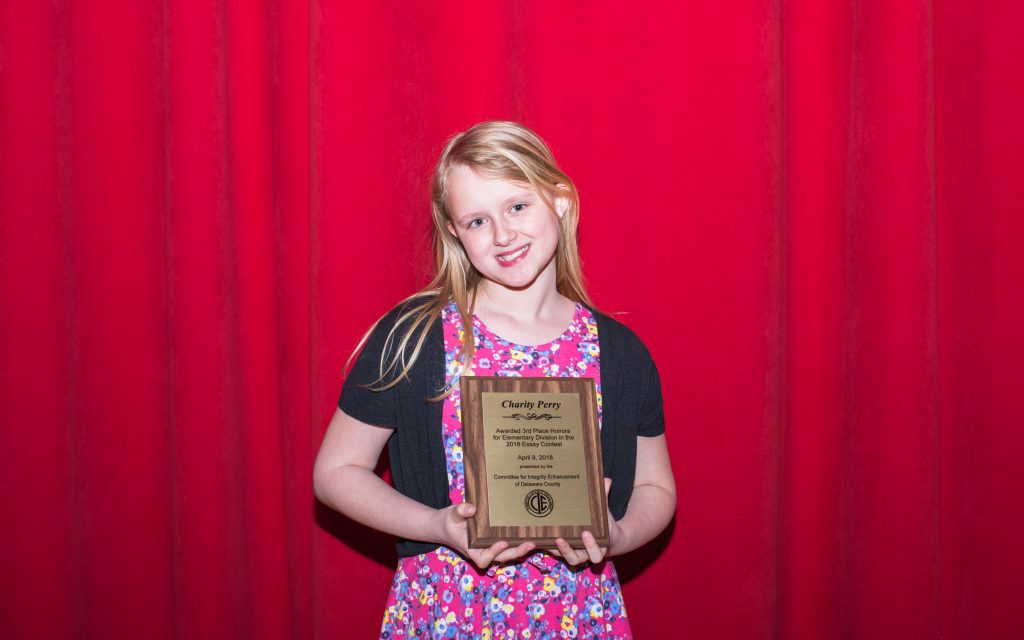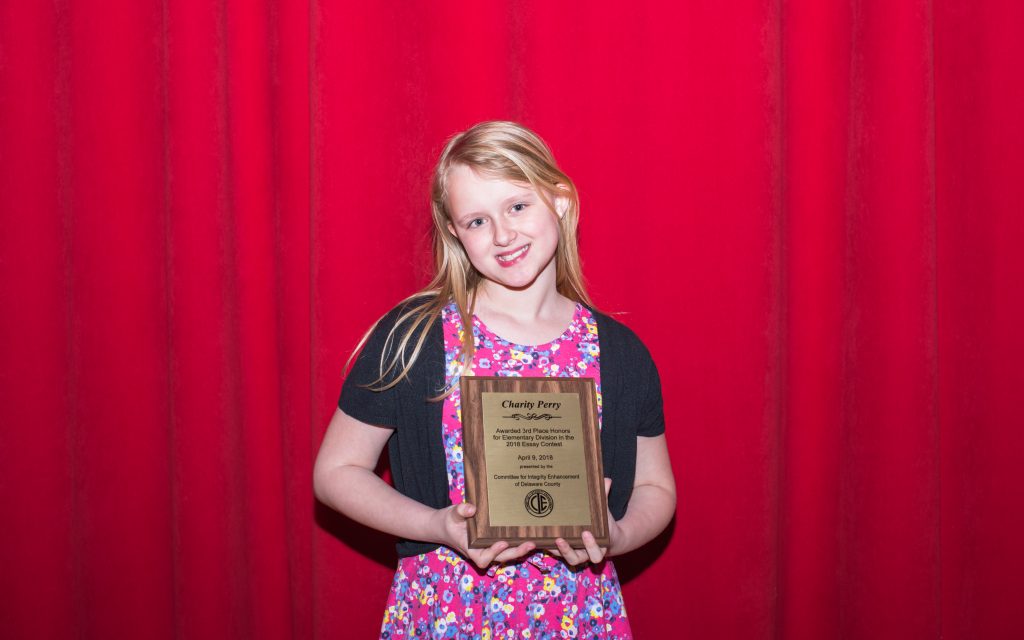 Middle School Division winners: First place, Chantel Sowers, 8th grade, Wes-Del Middle School (Teacher: Mrs. Meier-Fisher); second, Bailey Thompson, 8th grade, Delta Middle School (Teacher: Angela Decker); third, Benjamin Raymond, 7th grade, Heritage Hall Middle School (Teacher: Mr. Carpenter).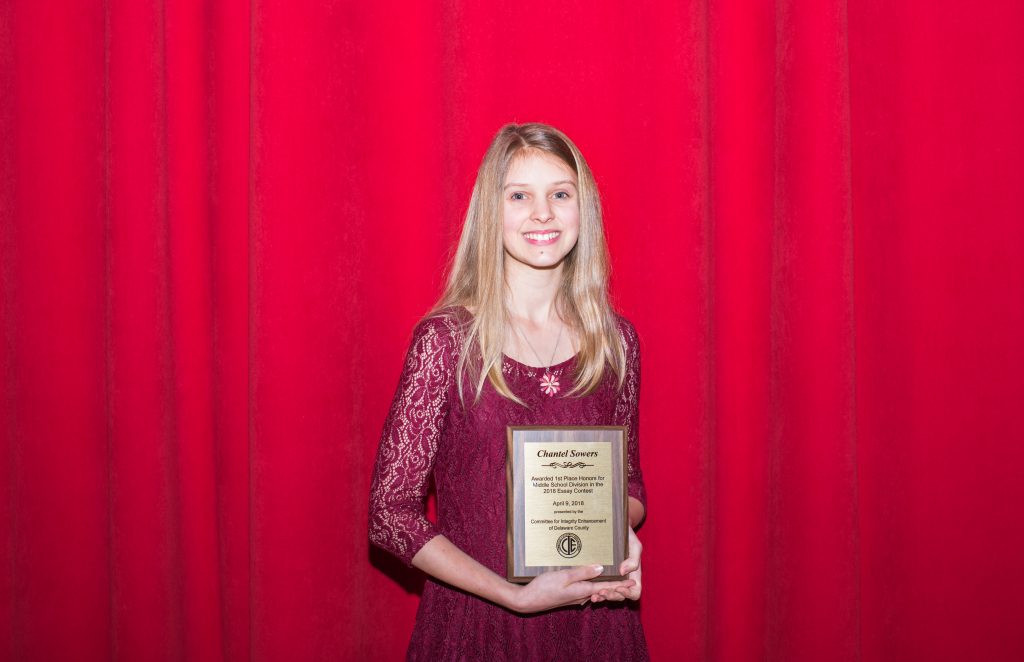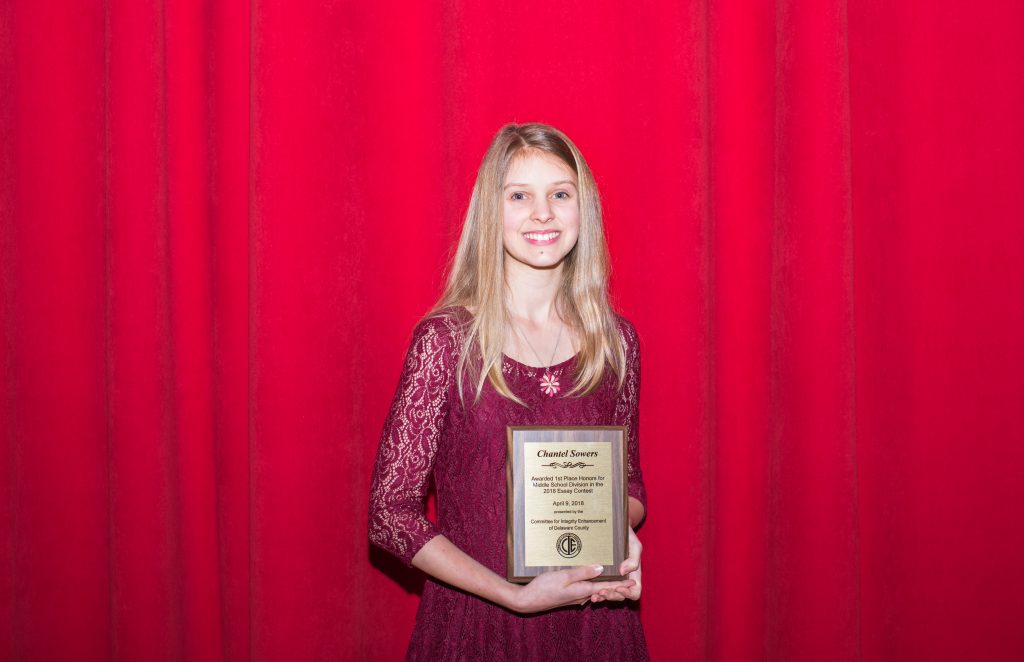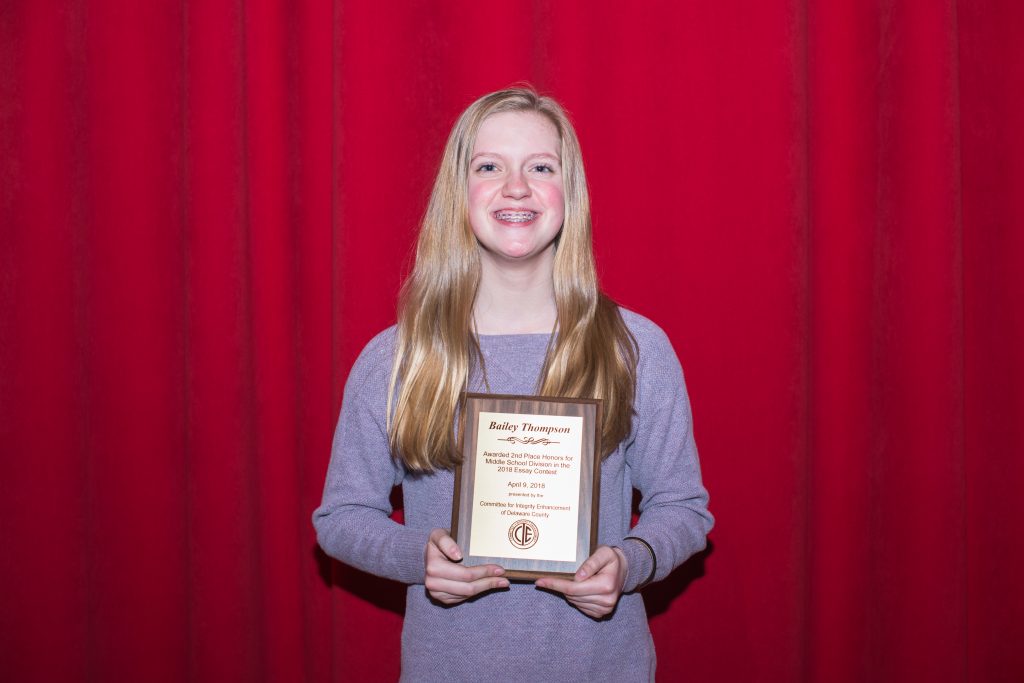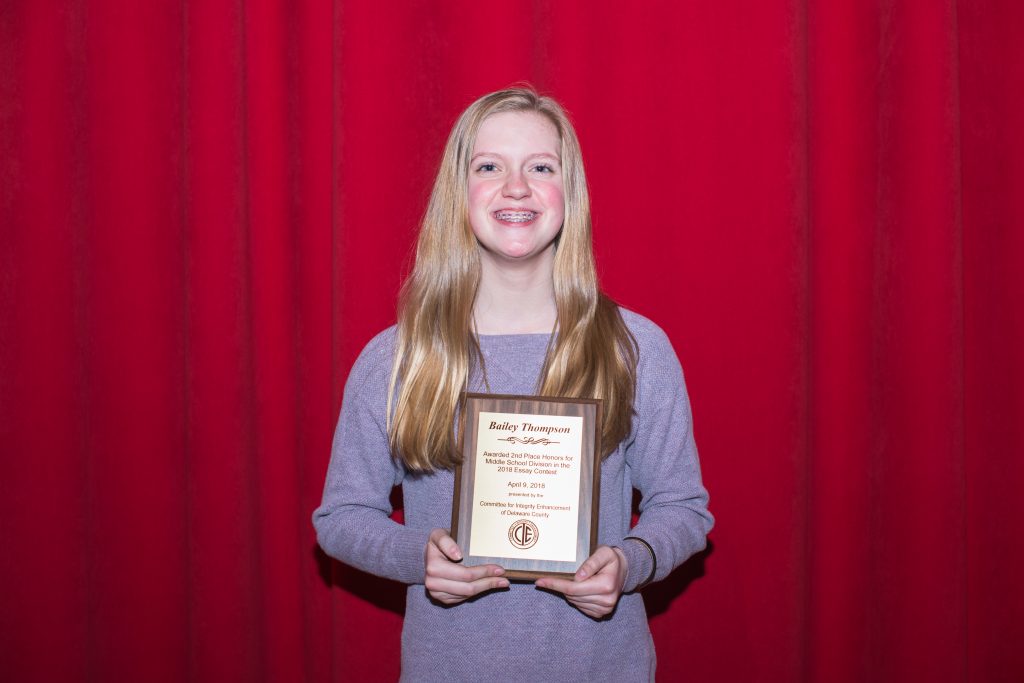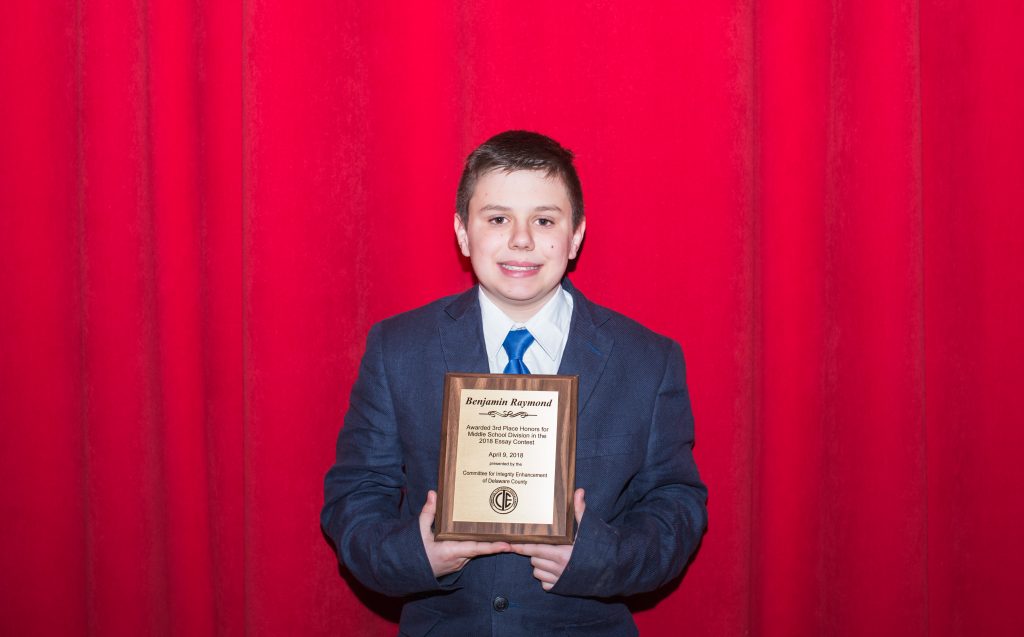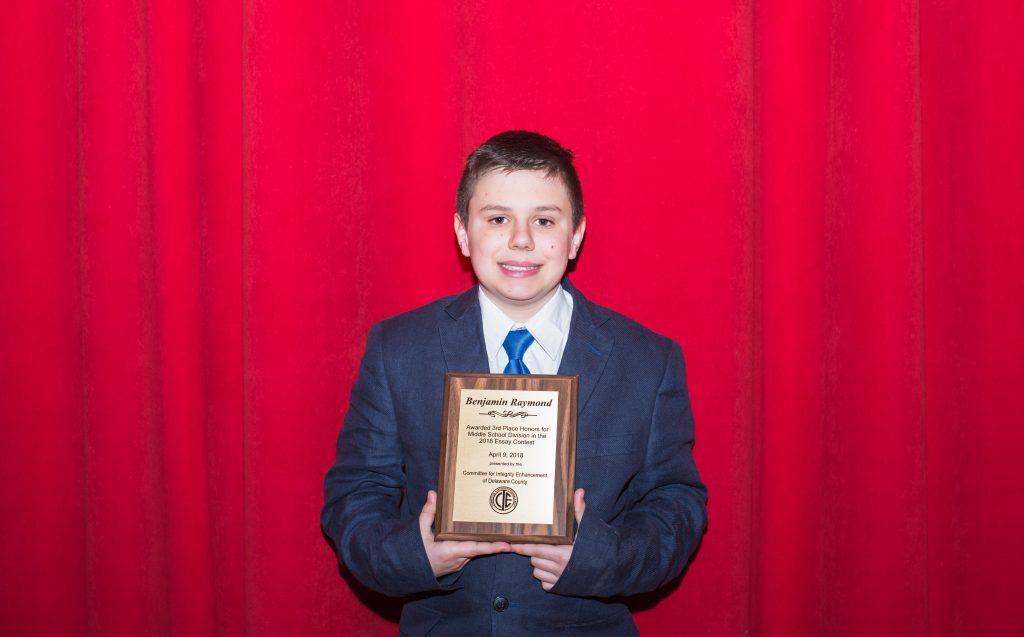 High School Division winners: First place, Ben Martin, 12th grade, Woodward Academy; second, Elizabeth Marshall, 10th grade, Delta High School (Teacher: Suzy Fox); third, Samantha Allen, 10th grade, Delta High School (Teacher: Suzy Fox).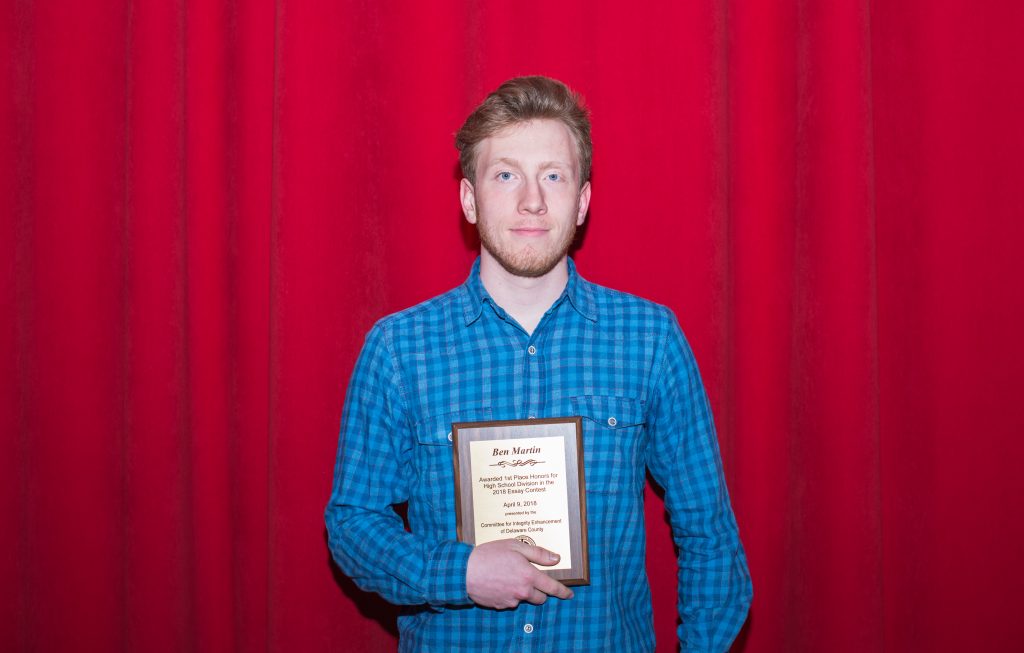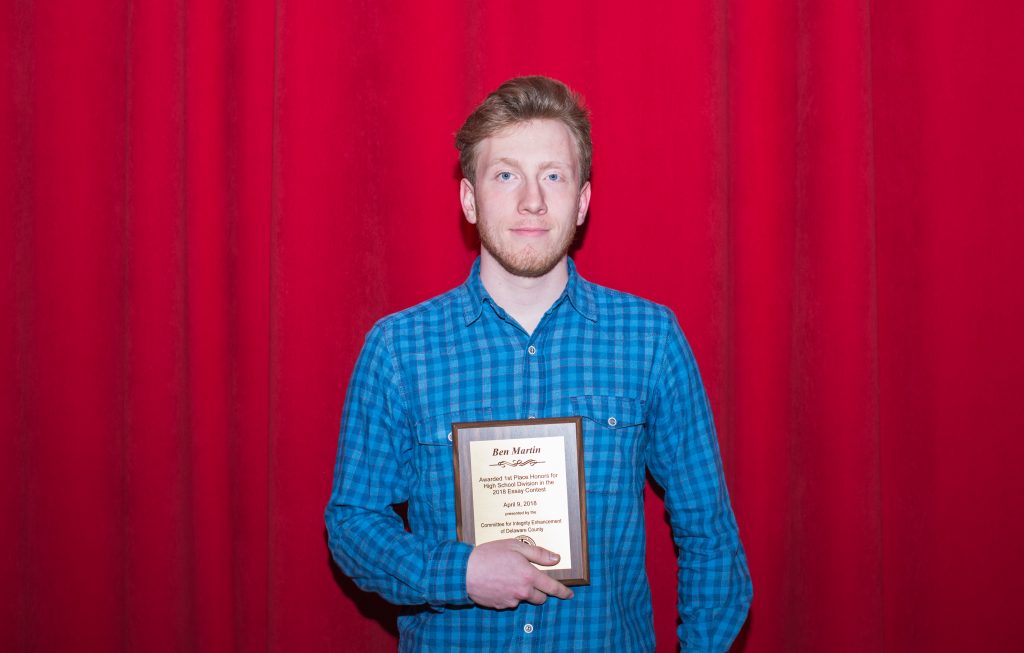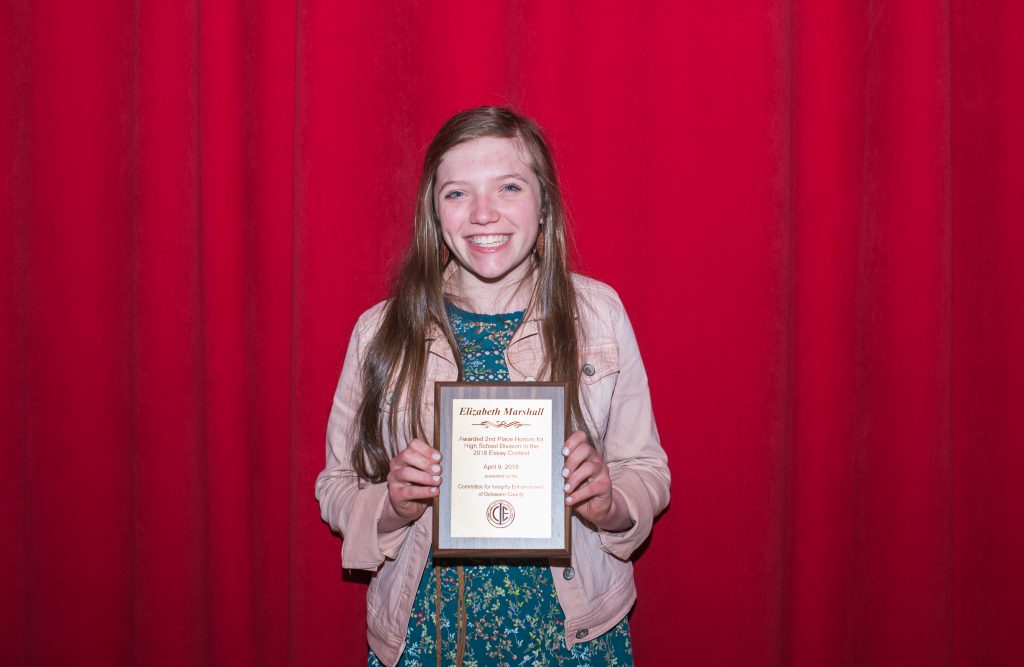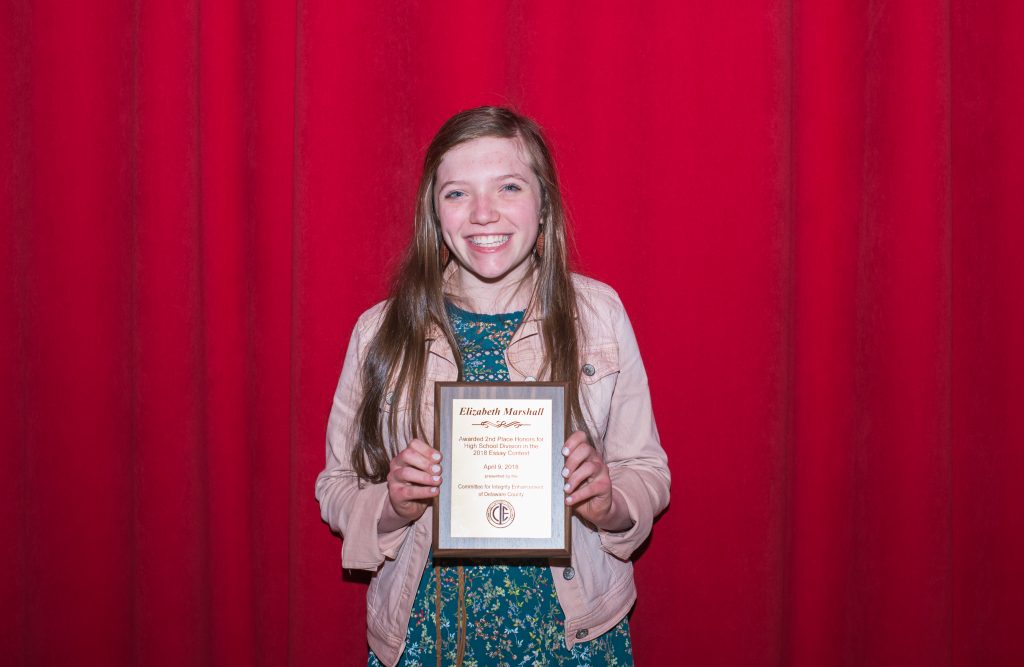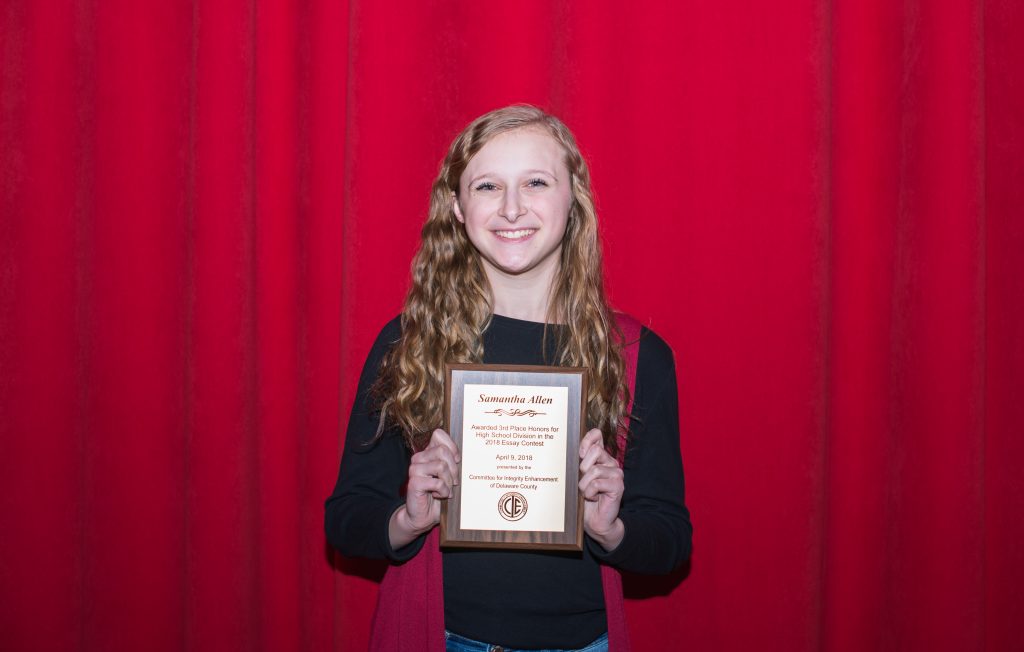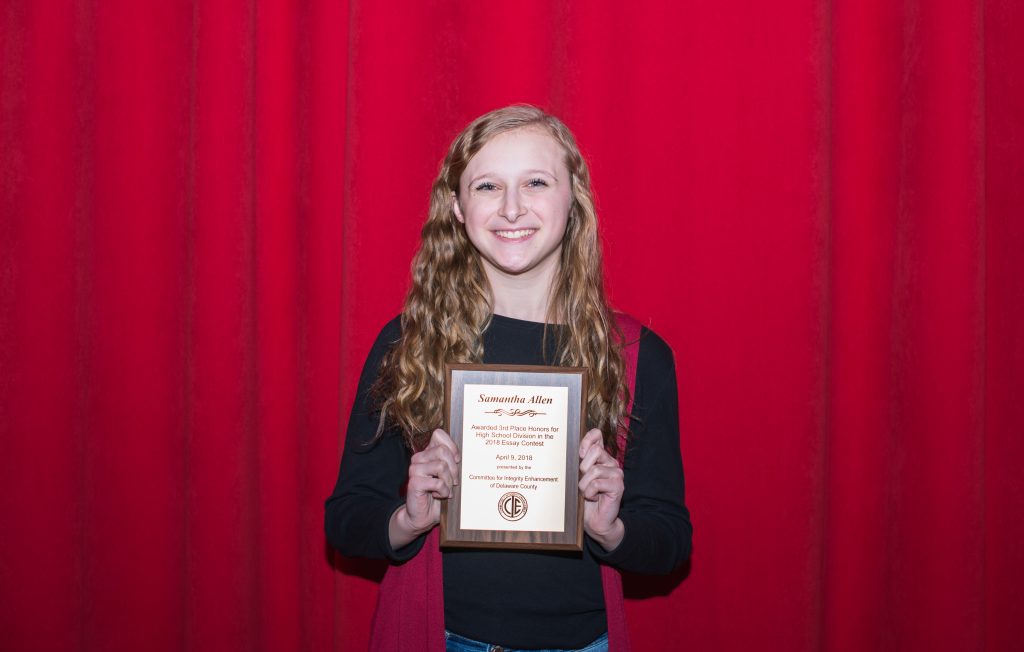 In addition to essay winners, each year the committee presents Personal Integrity Awards. Three individuals received this honor:
Dr. Linda Daniel –  Linda is a Doctor of Psychology.  She treats patients, and she is an educator in the Family Medical Residency Program at IUBMH. In his nomination of Linda Dr. Jeff Bird says, "She shows compassion, honesty, respect for others, and accountability in all that she does." Linda serves in a leadership role in the Friends Memorial Church where she played a key role in saving and enhancing the pre-school program; and she is an active volunteer in our city's Muncie Action Plan where she has helped with multiple initiatives to aid underprivileged children.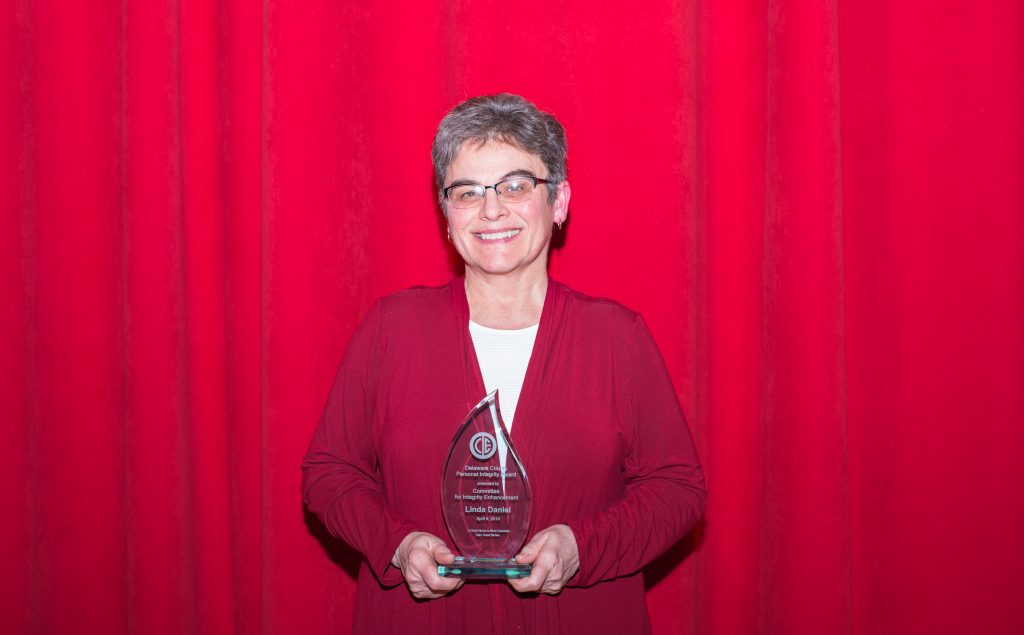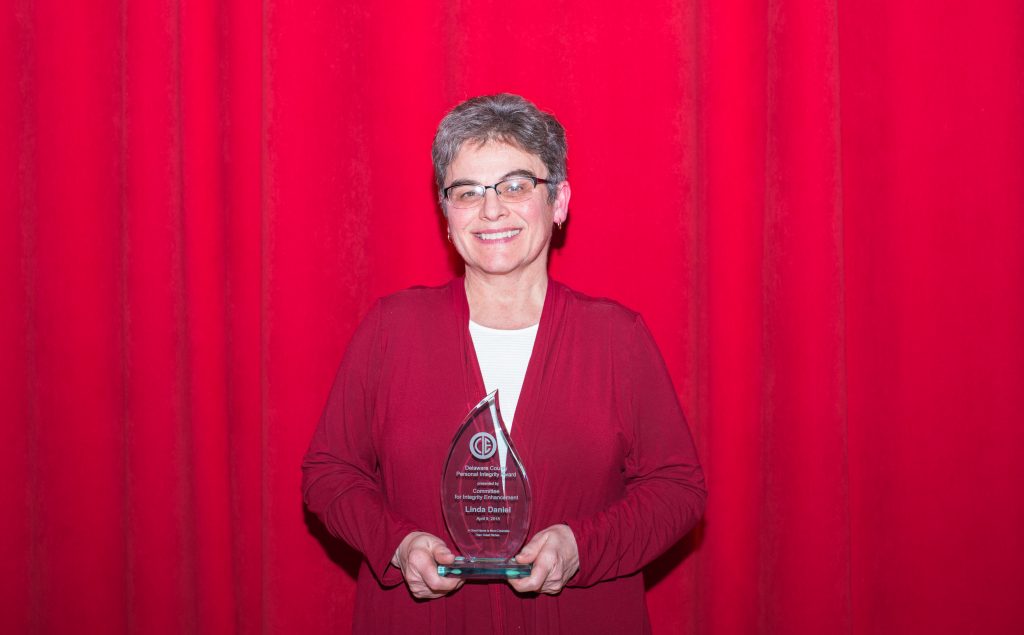 Dr. Jacqueline Hanoman – Jackie, as she is known, came to Muncie in 2004 from Venezuela where she had served as manager of a program dedicated to improving the lives of rural citizens in that country. Since then she has earned a doctoral degree from BSU, authored books, and taken concern for disadvantaged citizens of South America and South Africa. In December of 2015 Jackie was selected to be Executive Director of Muncie's Ross Community Center, which was floundering at the time. Her nominator, Barb Stedman says, "Thanks to Jackie's vision, energy, and relentless will to help improve the lives of others, the Ross Center is now truly the center of the Thomas Park and Avondale neighborhoods."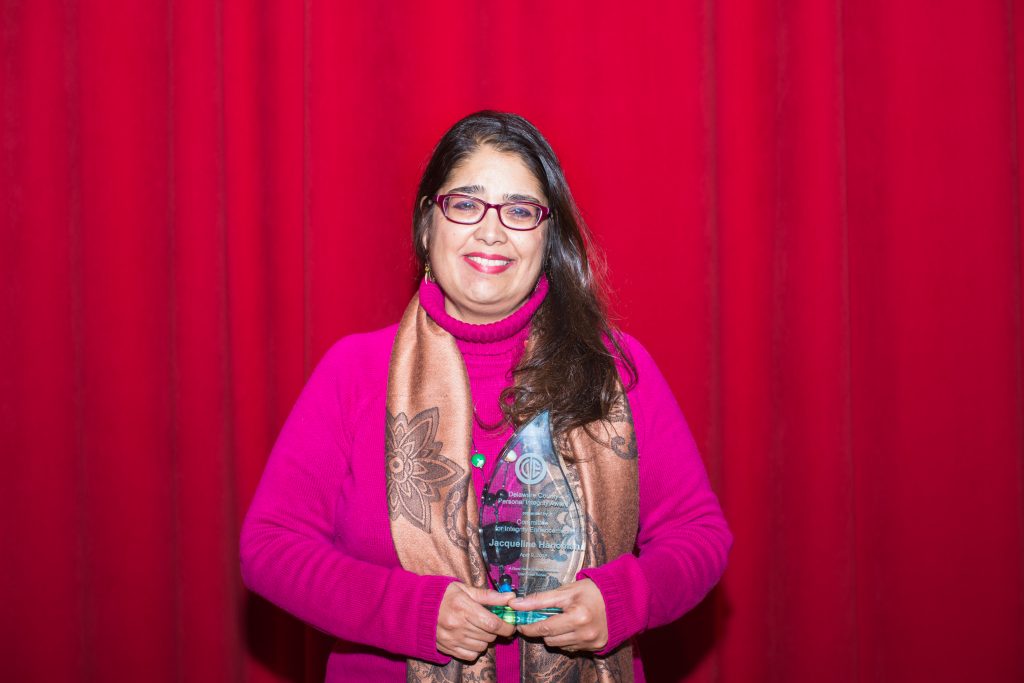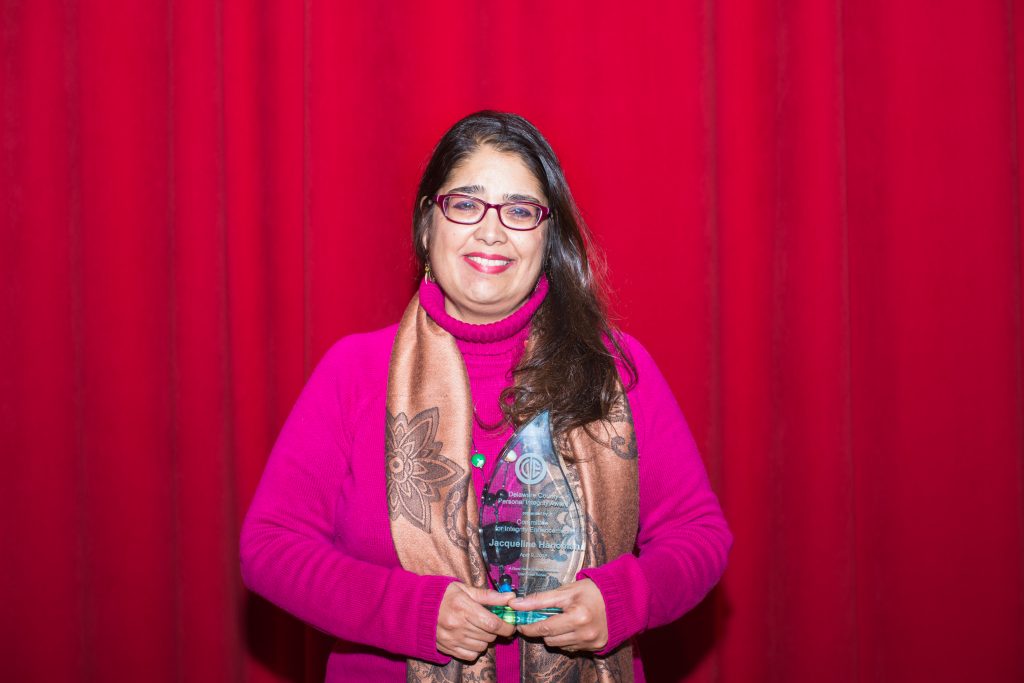 Dr. Maude Jennings – A woman of three careers: 1. A registered surgical nurse in the Washington D.C. and New York areas. 2. In the late 70's Maude moved to Muncie, earned a doctoral degree in English and Theater, and became a dynamic Assistant Professor in the English Department of BSU. 3. Upon retirement from BSU she began her third career, i.e. serving the needs of scores of people in numerous ways in the Muncie community. She has a particular passion for enriching the lives of children and adults by broadening their education beyond their experience of formal schooling. Maude shows no sign of slowing down since celebrating her 90th birthday last October.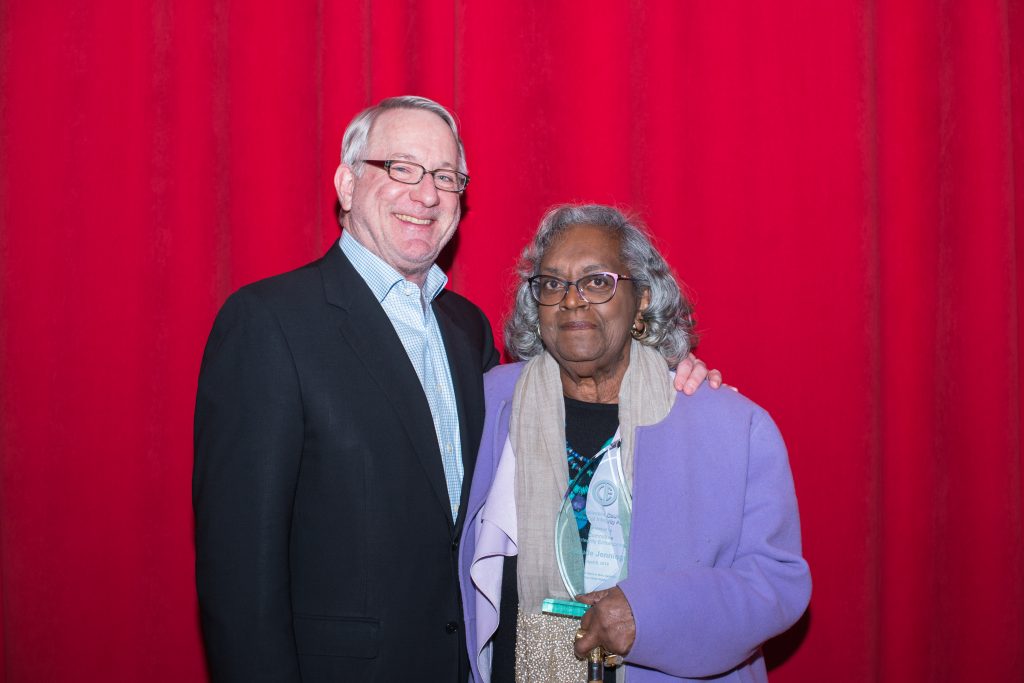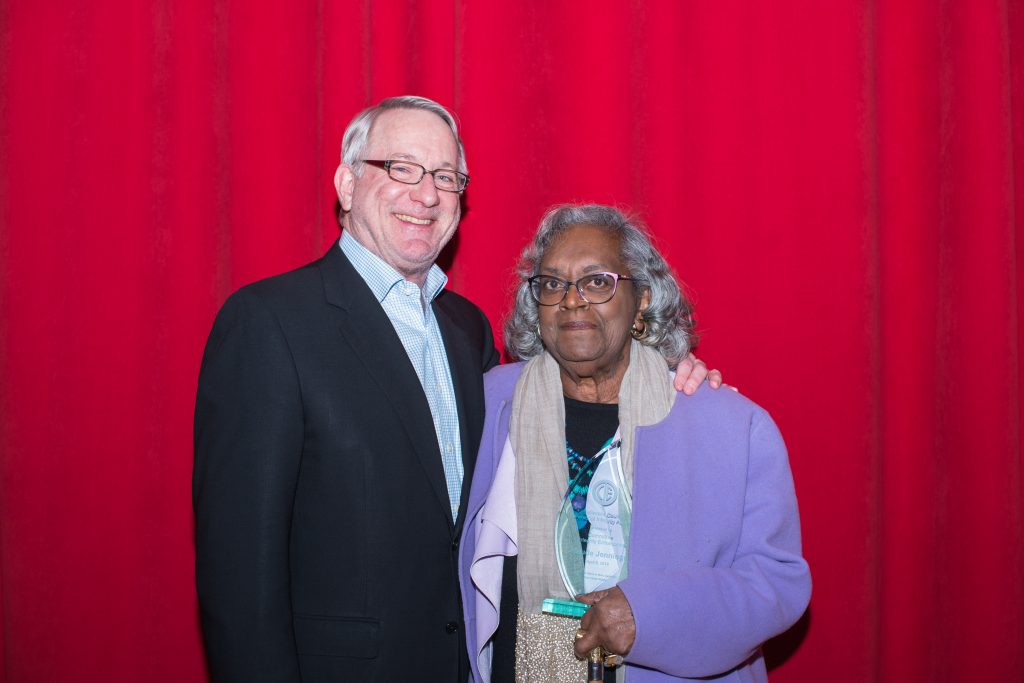 The speaker for the 2018 Committee for Integrity Enhancement Awards Ceremony was Pastor Andre Mitchell, Senior Pastor of Deliverance Temple Church in Muncie. His keynote speech, Integrity: The Key Ingredient for Embracing Diversity, offered inspiration and encouragement and challenged the students and all attending to embrace integrity and diversity in their lives.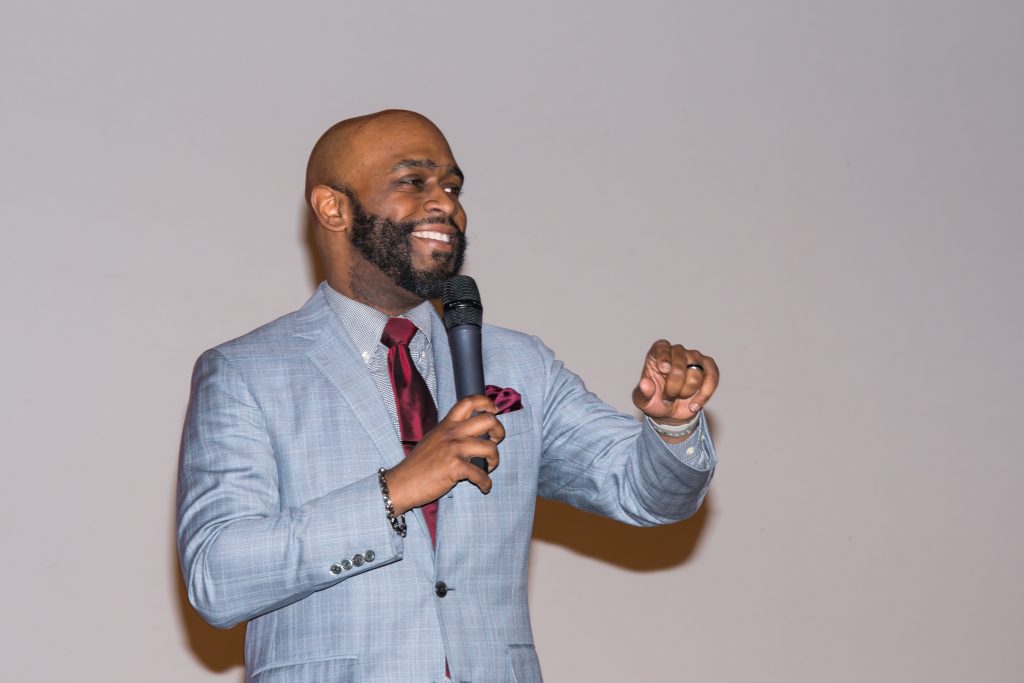 His key points for us to remember:
"Integrity comes from the root word integer which means whole instead of fraction. So integrity starts with personal wholeness."
"Broken people break people. Hurting people hurt people. When people are whole they become healed people and healed people heal people."
"When personal integrity stands side by side with diversity it's easy to interact with those other than you because you view them as one race the human race."
"Wholeness that stems from integrity teaches us that all differences can be embraced whether age, gender, race, or political differences because we offer others the same respect we desire ourselves."
"Lastly, we must remember the tortoise and the hare. The hare made the tragic mistake of judging his success based on who was next to him instead of the finish line. Personal Integrity is our finish line and it becomes easy to relate to others different from us when we don't make them our focus. Our personal focus is to be the best, most whole people we can be. That is our finish line."
Thank you, Pastor Mitchell.
The Committee for Integrity Enhancement also has a Facebook Page. Go on and "Like" us!
Congratulations to all!
The Committee for Integrity Enhancement consists of local citizens working together to promote and recognize "integrity" in the lives of area residents of all ages in the Muncie/Delaware County area. The committee is supported through private community donations. For more information, or to nominate someone for the personal integrity award: Committee for Integrity Enhancement, P.O. Box 764, Muncie, Ind. 47308.
Photographs by Chelsy Ray